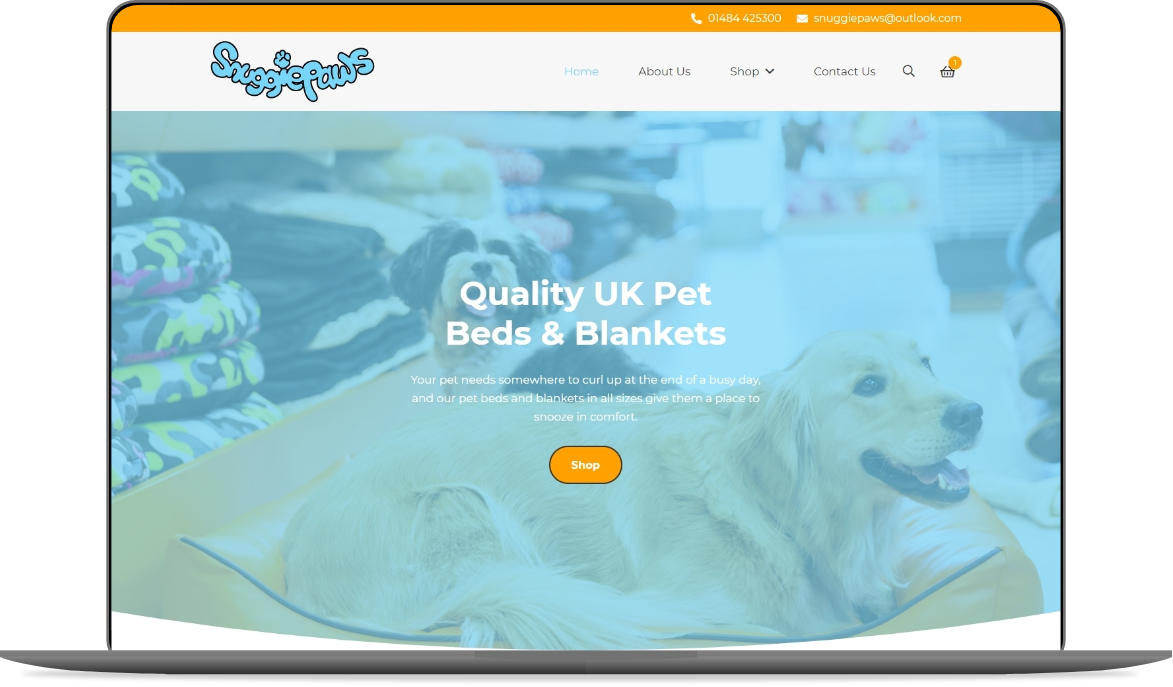 SnuggiePaws are one of the UK's leading Pet Bed & Blanket manufacturers, distributors, and suppliers. Creating all their pet product from their warehouse right here in Huddersfield, SnuggiePaws takes immense pride in their work and needed a fresh new website to showcase that standard.
They previously had three different websites that were all built on various web platforms such as Wix. We helped them compile this into one brand new website designed to organically grow their search engine results and automate a large process of the ordering system.
The Solution
The main challenge here was to design and create the new eCommerce website to not only include a highly functional and efficient product management and checkout process that would easily convert visitors into customers but to also make it look ace and super user-friendly.
Athena Media spent hours researching the SnuggiePaws competition both locally, nationally and internationally as well as dusting up on our Laws of UX to create the SnuggiePaws website, even re-drawing the current logo to smooth out the rough edges.
Not only is the front-end easy to use, but the back-end store management has allowed the SnuggiePaws team to improve its efficiency from receiving an order to getting it shipped and delivered.
The Results
The new website helps deliver the message that SnuggiePaws is a UK manufacturing and supplying leader, but without distancing itself from its core user base, those who buy one or two at a time.
Designed to encourage user interaction, the new website is receiving constant and organic traffic and conversions into customers.
SnuggiePaws quickly ranked well on Google and have continued to organically grow month on month and received some fantastic testimonials from its customer base, some of which have returned to the new website after ten years!
Search Engine Optimisation
In the first month we achieved…